Frank & Sheena Selkirk
04210, Lucainena de las Torres
Almería, España
(0034 950 52 25 16)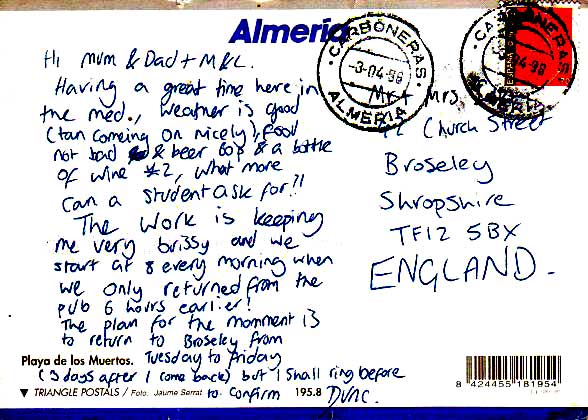 Where do we start? Well, our Great-Uncle William (Selkirk) is quoted in 1899 as saying: "Drop in and see me when I get back from Spain. Good‑day!". But he was (as far as we know) concentrating in North-West Spain. (See williamselkirk.com).
The first contact we have of our part of the world is that beside: Duncan, aged 19, on a field trip when at Keele University.
In reality, though, we dropped into the area at the suggestion of our friends Mike & Di Kaiser (who live incidentally in what was Frank's parents home around 1980). It was in 1999 that we went to stay with joint (formerly of Broseley) friends Mike & Sheila Picken who were (and he still is) living in Bedar. (Sheila died suddenly in November 2014)
In 2000 we returned to see if we could find somewhere we would like to live. Hence this web site!
(Moving on in 60 seconds)